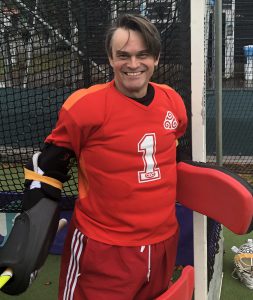 For goalies aged 24 or over, including veteran keepers, there is relatively little on offer, even though there are many enthusiastic keepers in this age bracket who want some extra attention and would like to develop.
That is why Drijver Goalie Academy is organising an over 24s training trip for male and female keepers for the first time. It will take place in Marbella over four days in February, and will be a perfect combination: hard training, lots of fun, nice weather and a fantastic location.
Who is it for?
For female and male keepers aged 24 and above. Keepers of all levels are welcome, including veterans! You train in small groups at your own level. There is only space for 16 keepers, so don't delay and sign up right away!
When?
From Monday 10th until Friday 14 February 2020.
What does the training consist of?
We will train at Benalmádena hockey club, where we will make use of their top facilities. One day of the training day will be on the rock of Gibraltar! In total there will be six challenging training sessions, each lasting two hours. The sessions will be led by Martijn Drijver and his team of top trainers from Drijver Goalie Academy.
And what else will happen on the trip?
We will be staying in a four-star hotel on the coast. Every evening we will enjoy a delicious dinner together in Marbella's old port. We can't wait to get there!
How much does it cost?
The price of the trip is €795 per person, based on a stay in a twin room.
Single room supplement: €32 per room, per night.
What does this include?
Transfers from Málaga Airport – Marbella and Marbella – Málaga Airport
4 nights in Hotel El Fuerte Marbella**** in Marbella, based on a stay in a twin room
Bus transfers to and from the training centres in Benalmádena and Gibraltar
Use of the hotel's fitness centre and swimming pool
4x breakfast buffet at Hotel El Fuerte Marbella
4x dinner at Loungebar Hestia
4x lunch at the training centre
6x keepers training sessions (2 hours per session)
Padel tournament
Not included in the price:
Return flight to Marbella (you must book this yourself). Check with the airline if you can take your keepers bag as normal luggage. If you are flying with Transavia, you can take your bag as hold luggage, but you need to book it in advance. The maximum permitted height of the bag is 86 cm, and the maximum permitted width 115 cm. There is no maximum length.
Outbound flight: Amsterdam-Malaga HV6115, arrive 09.50
Outbound flight: Rotterdam-Malaga HV5021, arrive 10.20
Inbound flight: Malaga-Amsterdam HV6110, depart 21.00
cancellation and travel insurance
personal expenses
extra food and drink outside mealtimes
(alcoholic) drinks at dinner
In short: sun, sea & keepers training
Are you a senior keeper, 24 or older? And would you like to go on a fantastic training trip to Marbella this winter break, together with other dedicated goalies? Then sign up for this unique training trip!
If you would like more information before deciding whether to sign up, please don't hesitate to email [email protected]